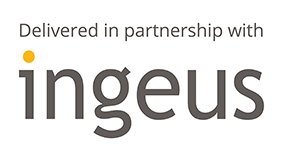 This project is part funded by the European Social Fund.
Changes Health & Wellbeing
has been funded via HM Prison & Probation Service Co-financing Organisation (CFO), as part of the CFO3 programme. CFO3 utilises European Social Fund monies to move individuals in custody and the community closer to the labour market. 
Originators and innovators of the recovery and wellbeing approach –
Changes has over 30 years' experience as a mental health service provider. During this time, it has developed an original and innovative service model that has a compelling evidence base regarding its efficacy in promoting recovery, wellbeing and inclusion.
Changes has been involved in all 3 rounds of the HMPPS CFO contract, part funded by The European Social Fund, leading to successful and valued delivery within HMPPS in and around the East Midlands and Staffordshire. Changes has also developed a productive and effective partnership with Probation Services.
Changes is ideally suited to supporting Ingeus and other HMPPS CFO3 delivery partners, end-to-end and strategic, operating within the East Midlands, North East and Yorkshire & Humber.  Through the provision of supportive measures, EWOP and EOL courses, Changes provides a service that supports a client's sequential journey towards more effective management of mental health issues and long-term conditions or disabilities.
The Changes service menu is delivered by a team of qualified and experienced Wellbeing Coaches, working from HMPPS CFO3 partners' premises across the East Midlands, North East and Yorkshire & Humber – including HMPPS, community venues and remote one-to-one.
Working closely with AIM Qualifications, Changes offer accredited and established courses that effectively deal with a range of wellbeing and employability issues.